You don't have to be a Rocket Scientist to practice Safe SEO Strategies – while knocking the socks off your competition!
"Powerful SEO Strategies You Can Use Straight Away To Easily Attract Organic Search Engine Traffic!"
From: Heather Ross
Date:
Dear Online Business Owner:
Are you ready to fast-track your way to increased traffic that result in improved profits? Then you need to get your hands on this jam-packed report: "Breakout SEO!"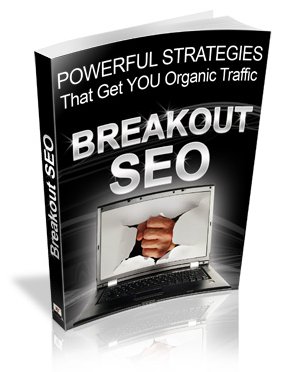 You'd love to know how to easily attract focused, organic traffic – without spending days learning advanced Search Engine Optimization techniques (or hiring an expert who costs a small fortune!)
You'd really love to know:
The single most common cause of SEO avoidance – and why that can be so disastrous to your cause
Why the 4 essential set-up techniques are just not enough to bring organic traffic flocking from the Search Engines
The single most important task to undertake, before you ever write one word of web site code or set up that blog!
2 tasks you need to be aware of – and the right way you need to perform them
The "hidden" technique for increasing your SEO promotion too many marketers ignore
The single most vital thing you have to do after deciding on your site theme and target subscriber
8 areas – not the single one you were thinking of – that you also need to know to SEO-proof your site
2 essential (but free) keyword tools – and the extra one you may actually not be aware of
The absolutely essential fact to remember, when deciding where to place those keyphrases you researched so carefully
The small but absolutely crucial step too many marketers forget
Grab your copy of this report and you'll discover:
What 95% of shoppers enter into their browsers – and why you should make sure that the name they see "first up" is your site's
3 powerful methods of choosing the best domain name for your website – and tips on when to use which particular method
The small but important mistake not to make, when choosing your website extension
The small but thorny question of when to use underscores, hyphens and justplainrunonwords in your unique domain name
The disturbing hidden hazard that can sabotage your SEO strategies that most web site owners never do uncover
The shocking and unnecessary cause of Search Bots judging your site – incorrectly – as simply "not found"
2 pieces of vital protection against this hidden danger – and what might be lurking on your site not put there by you
And then there are the little things – and hidden hazards you may not have even known to think about:
Which extension to use – when .COM is already taken
2 web host problems you never want to run into – and a way to check if it's already happening to you
The 2 things you never want to see, when you go to use your FTP program
The single most important (and easy) precaution for bloggers to take
The beautiful reason you don't have to download these vital blog plug-ins just yet
The truth is… there's a lot to SEO strategies – but you need it to be pretty basic, to fit into your schedule and plans.
Yet you need it to really pack a wallop – and get you those organic, focused results (starting today!)
And then there's the question of site design and web coding…
"You Mean I Have To Learn Web Design On Top Of Everything Else?"
Relax! That's not going to be a problem. In less than two pages, this book shows you powerful shortcuts that will vault you past months of painstaking learning you really have no interest in taking, at all.
You will learn quick and easy secrets like:

The truth behind meta tags – in spite of what you may have so often heard

The truth about SEO design issues – and common mistakes people make, over and over, all too often

The single worst SEO design mistake – and why website designers love to talk you into it

The single most crucial element to include in your web code – and why Search Bots will leave if they don't find it

The other handy web design "tool" that can do more harm than good

The single most element you have the most control over – and Google loves it best of all

The simple 4-word command that will have Search Bots scurrying (with Google's full approval) to do your bidding

The one major but often overlooked  factor you must not neglect, in your zeal to implement other powerful tricks

5 main ingredients that will always contribute the most value to your page rank
It can actually take years to learn tactics and methods like these.  However, Breakout SEO has it broken down to essentials – and made it easy for you to act on what you need today.
You'd Really Like SEO To Be "Instant"
– Yet You Want To Thoroughly Understand It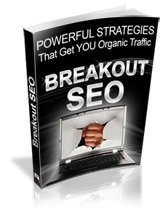 This Report "Breakout SEO – Powerful Strategies That Get YOU Organic Traffic" will give more than just tricks you blindly follow.
It will quickly explain the reason and logic behind things – without putting you to sleep or making you fell like you're reading the sort of Techno-manual that has you hurling it at the wall, or developing a blinding headache (before you give up in gloomy despair.)
If you've ever tried to tackle SEO on your own, looked at SEO structure maps, and realized with a sinking feeling they contain much more than you want to learn, don't look any further!  You won't find anything here but concentrated, simple strategies you can actually understand – and use!
So what have you got to lose (except – possibly – traffic confusion and SEO that could be greatly improved?)
So download it today, and find yourself happily tapping into "SEO – Powerful Strategies That Get YOU Organic Traffic".
Download your personal copy of this resource-packed Special Report while you're still on this page.  While others are wading through heavy manuals, or feeling depressed at how much technical SEO they really do have to learn, you'll have zeroed in on the rock-solid basics – and you can get started bringing in targeted organic traffic straight away!
Yes! I want to learn more about "Breakout SEO – Powerful Strategies That Get YOU Organic Traffic" today!
Send me my copy of this focused Special Report – so I can quickly decide for myself if this information is exactly what I've been looking for, all along!
I understand this Special Report includes:
4 easy steps to set up my own personal SEO blitz
The secret of making sure I haven't missed this one hidden threat that could weaken all my pages
"Behind-the-scenes" information that will help me understand how Spider Bots really do work – and how I can help them
4 SEOcret weapons too many people aren't aware of that will boost my organic results
The real truth about Search Engine submissions and Directories – that will have me sitting back in relief
Why Google is so important – and the secret to easily avoiding unwitting Google mistakes
But most of all, "SEO – Powerful Strategies That Get YOU Organic Traffic" will make it easy for me to get started with practical, simple SEO strategy – moments from now.
Enough with the chatter, already! I'm totally ready to instantly download my copy:
Click Here to Claim Your Copy Now
(Only $19.99)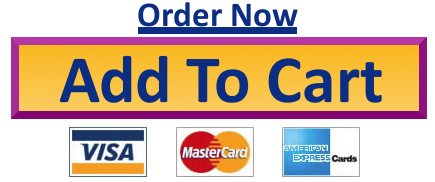 INSTANT ACCESS
Purchase Online

with our Secure Server
Major Credit Cards & PayPal Accepted
To your increased and focused organic traffic!!!
Sincerely,
Heather Ross
P.S. Some people are telling me the bonus section, "11 Unwitting Ways To Commit Google Sacrilege", is worth the investment alone!
Make sure you avoid these 11 "deadly sins" by downloading your copy of "Breakout SEO – Powerful Strategies That Get YOU Organic Traffic" right this minute.