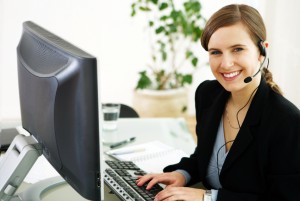 The standard definition of a Virtual Assistant (VA) according to Wikipedia is: "an entrepreneur who provides professional administrative, technical, or creative assistance to clients from a home office." Virtual Assistants work as independent contractors which enables them to work for a variety of different businesses charging for only the time they are actually working on a specific project. VAs use technology to perform these tasks remotely from an office, most of the time a home office. There are VA teams and companies who contract with many VAs as sort of employment agencies working with VAs.
As a business owner you can hire either a VA Team, a VA Company, or an individual VA to perform many different tasks without providing equipment, office space, or training, all without the expense of paying for healthcare, benefits, and taxes. Instead, you just pay your VA an hourly rate or a per project package rate that you both agree upon for the tasks they do for you and you're done. You can hire all types of people to work as a Virtual Assistant and they do not only provide administrative support as some people may think. Virtual Assistants can be so much more such as:
Business Manager— You can hire an online business manager to be responsible for contracting with other virtual contractors, organizing your schedule, and coordinating the work to be done on your behalf by others. An online business manager works virtually to assist you in managing your business, no corporate office needed.
Receptionist — With the right technology in place you can have your calls forwarded to a virtual assistant who specializes in being a receptionist. You only pay for time spent on task, not on time the VA is not on the phone tending to calls. This can save you a lot of money over a traditional receptionist. Plus, you don't need an actual office to need a virtual receptionist. If you take many calls that are constantly interrupting your day, a virtual receptionist can alleviate this problem.
Technical Support — A VA who is trained in various types of technology can offer technical assistance by using technology such as 1Shopping Cart, WordPress, Constant Contact, AWeber, and others. A Virtual Assistant trained in web design or with the tools of web design like WordPress can update your blog and website as needed. A Virtual Assistant trained in 1Shopping Cart can set up your newsletters, digital products, buy buttons and affiliate programs.
Article Marketing Support — Some Virtual Assistants specialize in article marketing tasks such as editing and formatting articles and posting them on article marketing websites on your behalf. This is a very tedious task that  many virtual assistants provide to business owners that will add tremendously to your return on investment if completed on a regular basis.
Administrative Support — Most VAs while they likely focus on one of the specific niches mentioned above provide some form of administrative support such as editing, word processing, proofreading, calendar management, organization and other typical "secretary" focused tasks as well.  A VA can add products to your online shopping cart system, add blog posts to your blog, gather data from your metrics, compile into a report and help you stay on task.
As you see, a Virtual Assistant can wear many hats from WordPress to 1Shopping Cart and can be contracted with in many forms from a VA team, a VA company to individual virtual assistants who work from their home office. The only thing you need to do is create an advertisement that will attract the type of virtual assistant or assistants that you need.