FREE CHECKLIST REPORT
10 THINGS YOUR VIRTUAL ASSISTANT MUST DO FOR YOUR WEBSITE TO BE FOUND ONLINE
From: Heather Ross
Date:
It is not just enough to have a great website design. You need a website that is set up with the search engines and gets you repeat visitors! Many web designers are concerned only with appearance – they are not as skilled as you would assume, when it comes to using clean, well-validated code and building good SEO right into the design.
Are you considering hiring a web designer or virtual assistant for your website? Then use this report 10 Things Your Virtual Assistant Must Do For Your Website To Be Found Online as your checklist in your discussions to make sure you are being well taken care of. By following this checklist you will have your site set up to appear with high rankings in the search engines.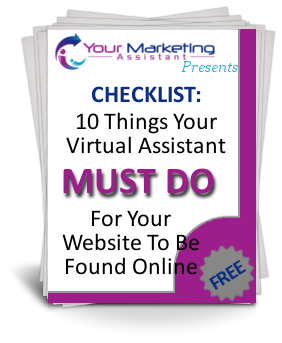 All you need to get this FREE report is click the link below and like Your Marketing Assistant on Facebook. Once you click the like button a revealed page with the download link will be revealed to you.
Heather Ross
Your Partner in Online Success